Photo Booth Corporate Events Hire
Corporate parties are a great way to build relationships between colleagues, but how do you create an enjoyable atmosphere that isn't too formal? How do you get people out of their comfort zone and talking to people they don't usually interact with? We know how important team building is and how difficult it can be to get people mixing with people they wouldn't normally socialise with. A photo booth is a relaxed conversation starter and is an informal way of getting small groups of people together without any awkwardness.


A photo booth will give your employees the freedom to create team-building scenarios themselves without them even realising it. It's a more natural, organic way of keeping people entertained at a corporate function that will get everyone talking. Breaking down barriers between senior and junior staff is easy when everyone is sporting various different wacky props. It's so true that laughter brings people together and there's nothing funnier at a corporate party than your boss making a fool of themselves.

A photo booth is the perfect way to bring out everyone's fun side and makes it easier to get to know the people you work with better away from the stresses of the office. The beauty of the photo booth is that it is so informal, people will find themselves at the booth amongst co-workers they wouldn't typically speak to and everyone will pile into the booth and enjoy the experience together.

People are usually more likely to 'get stuck in' with something silly and fun rather than a traditional 'away day' with outdoor pursuits and obstacle courses. Whatever the reason for your corporate get-together, a photo booth is the perfect reward for everyone's hard work. A photo booth really does break the ice and get people talking, and with nobody on the other side of the camera people are more likely to let loose and really let their hair down.

Whether you are hiring a photo booth for a conference, a Christmas party or other corporate occasion, it's so easy to make your colleagues feel valued and looked after with the fun a photo booth brings. Sometimes it is hard to find the right activity for a company incentive, but a session in the photo booth is always a crowd pleaser and sure to keep everybody happy. Take the stress out of event planning and give your colleagues a corporate party to remember with a photo booth hire for your next corporate event.

Here is a summary of what we can offer for a Photo Booth Corporate hire package:

✅ Walk in booth to hold 6 people
✅ Free set up and delivery within 50 mile radius of Banbury
✅ Friendly Attendant to run the booth
✅ Unlimited visits to the booth
✅ Large dressing up prop box
✅ Touch screen
✅ Online gallery
✅ Free 2D Green Screen
✅ Free 3D Immersive Green Screen
✅ Free background selection
✅ Unlimited prints
✅ Photo print style options
✅ Face recognition filters
✅ Digital download for all images taken

Please let us know if you require something a little different for your corporate events hire, we are sure to be able to accommodate your requirements.

Here are some of the prestigious companies that we have provided our photo booths to for their events recently.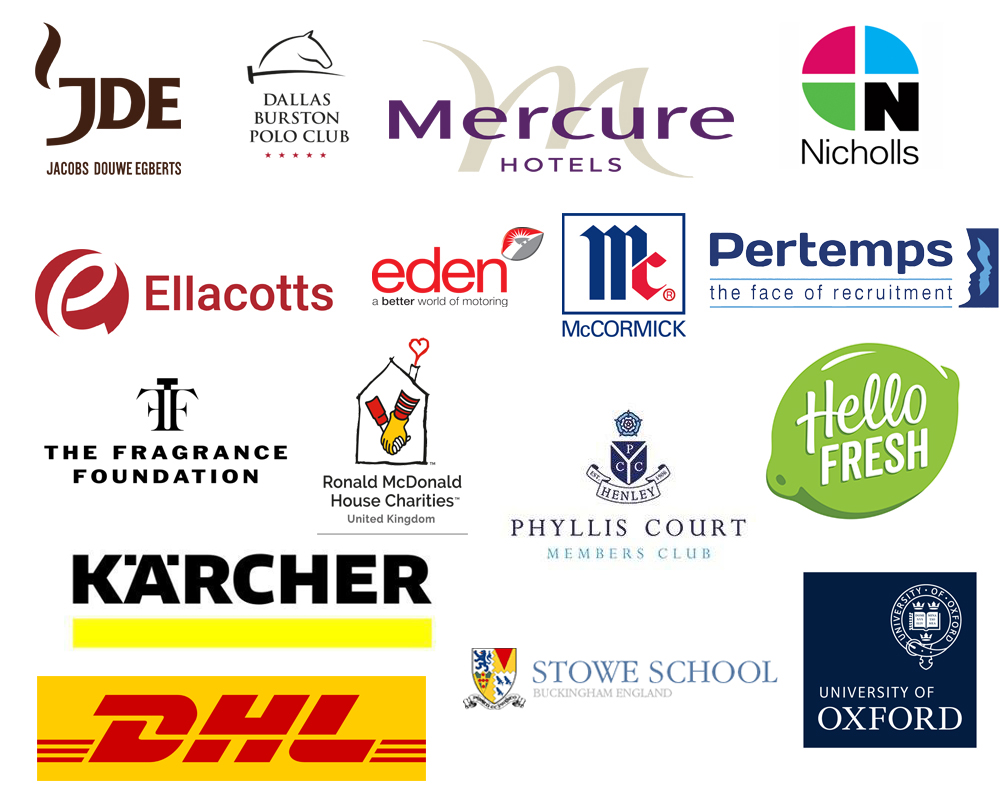 Please send us a brief message about your Corporate Event requirements and we will reply with a personalised quote: